Wizard Lizard Shapeshifts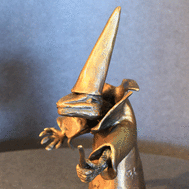 About a month ago, I walked out my front door and saw a lizard sunning himself on a rock. He looked like he was doing push-ups. I started laughing and pointing at him. He jumped up on his hind legs and started reprimanding me, "Save it weirdo! You humanoids have nothing on me. Look at your bizarre behavior." Then he started shape shifting into all of these different poses representing activities that we do as humans. I laughed and nearly cried. Then he jumped on his roadrunner and rode away.

I have been left in a state of wonder. I have always been fascinated by the Dia de los Muertos vignettes; mocking death and celebrating life. But, I never expected a closer look at humanity from the perspective of a lizard. Rob Koehl 5/2013

---
In this process, all of the waxes for the lizards are cast from a single rubber mold. Everything else is modeled in wax, so each sculpture is a "one of a kind". The lizards are fininshed in traditional patinas; Liver, Cupric, Ferric. Many of the colors are transparent, photographs do not give them justice. The ferric and cupric is very light, catching hints of color from one angle and disappearing when viewed from a different direction.
Roadrunner Lizard (Original in Precast Form)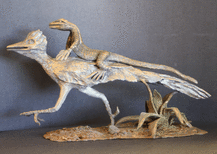 Roadrunner Lizard, Original in Precast form
As mentioned above, I have only one mold for the lizard and everything else in the series was formed in wax. This roadrunner was sculpted in wax , there is currently no mold for this piece. This piece will be cut apart and a rubber mold will be taken from the roadrunner. The piece will then be turned into a limited edition of 35. The edition will hold a more vibrant patina. Some color was hurriedly applied in order to capture the form and some details for the picture. After molding, this original will be refinished and offered as a one of a kind original. At that time, some of the unique qualities of this piece will be displayed.
---