Patrons and Collectors
May of 2013 I visited with John Waddell at his studio and foundry near my home. John, at age 95, shared with me that he felt that he was the highest producing, living artist. He atributed that to the fact that he built relationships with patrons that supported his work, like Da Vinci with the Medici. That allows him the freedom to what he loves all day long, and the patron, a lasting mark on the world.

There are very successful galeries in Sedona that offer sculptures in precast form. They present a model of the sculpture in clay before it is cast. This allows collectors to be the first to own the work at the most favorable pricing. I don't work in clay very often. I enjoy the fire and tooling of the foundry, forge and the welder. Many of my originals are worked out in steel and copper then I look to cast an edition. This allows the collector to own an original or a limited edition bronze. If there is a precast piece or a piece in process that you are interested owning in either form, please let me know.

Thief in the Night original is nearing completion

This raven in flight sculpture is forged and fabricated from mild steel. This original will also be cast in silicon bronze for a limited edition. Forming the original in steel, allows for a pose and balance that could not be achieved in a clay original. Adding wax to the form before molding allows for more traditional textures, in addition to the unique texturing captured in the steel forging and
fabrication process.

Here is a rear view of this raven. In his claws will be a dollar bill. The raven in Southwestern Native American culture is known as a trickster. He is posed to look like a nobel eagle. He also represents a thunder bird, from out of the ashes, a new society is built. Some believe that if the U. S. Dollar lost it's world reserve currency status, purchasing power could drop overnight, hence the
title "Thief in the Night". Some in modern times feel that those controlling the dolar are posing like America's protectors, but are only tricksters, acting on their own behalf like a "Thief in the Night".

---
Copper Originals Cast in Bronze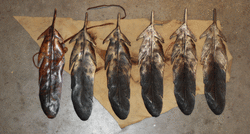 Feathers
Here is a series of feathers to illustrate the process of casting limited edition bronzes from fabricated originals. The feather on the left was hammered and formed out of copper sheet. It was then coated in wax where details were carved into the wax. A rubber mold was then taken from the wax coated original. From the rubber mold, the remaining feathers were completed in the ceramic shell, lost wax, silicon bronze casting process. These feathers were "chased" (sanded, ground or welded) to show different types of finish.
---